About the Artist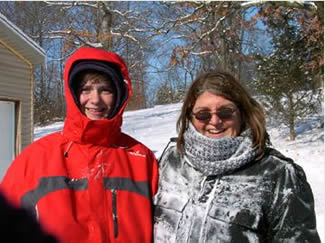 Gayle Nelson's work expresses an ongoing fascination with the beauty of wonderfully diverse cities and unique places. From New York City and the Hawaiian Islands to whimsical fairy tale places and fables retold, she has pulled prints of what she loves best--structure and beauty. Her work reflects an old-world flavor in a modern day setting. From concept to finished print, the creative process involves rediscovering line, texture, color, and composition. Her artistic creations reflect her heart, soul, and spirit.
Her family and career took her on another path and school went by the wayside for a few decades, although she remained in the art world as an Art Director of Rotor & Wing Magazine and Art Director for Ad Planner group at Multi-Ad Services, both in Peoria, Illinois. She did not get back into printmaking until years later
After she was accepted into the Syracuse ISDP MA Illustration Program, she was refreshingly submerged in the creative world again. Knowing faculty guided her to focus on printmaking. Although she had started out in oils, acrylics, and even digital media, printmaking is her heart, soul, and spirit, Gayle met a fellow classmate during residency, and traveled to Haiti to help grow a school. You will enjoy the inspirations and the story behind the book... view the photos under Travel. Gayle completed her doctorate in 2018 – "Perceptions About Hands-On Art Making by Non-Art Major Online Students" – and continues to teach online art students to retain art as a vital part of their lives!
I would love to hear from you! Contact me at glnellie2014@gmail.com
more--
Resume...
Copyright, Nelson Illustration, Gayle L. Nelson, .