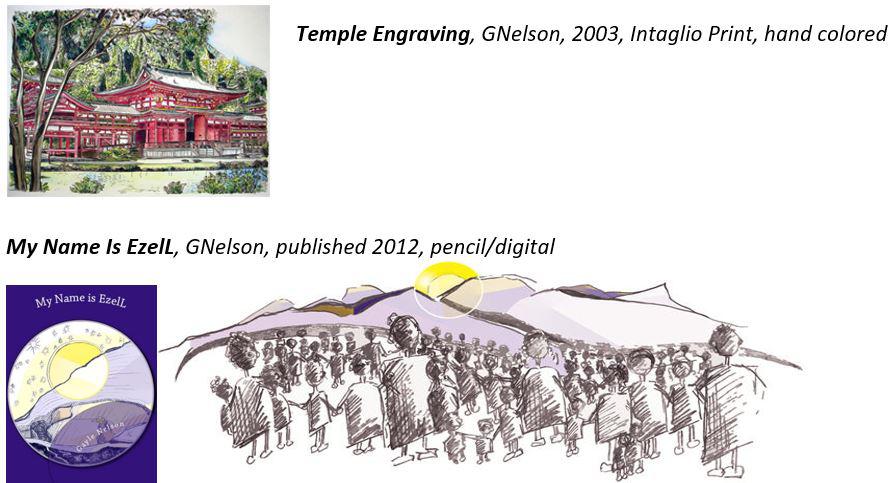 Artist, Instructional Designer, Art Instructor, Trainer, Ed.D. Higher Education Adult Learning
Combining extensive education and 15+ years in education, I grow teams, serve faculty, teach students, and ensure success.
Education
Ed.D. Higher Education Adult Learning Walden University, MN Graduated 2018
Doctoral Project Study: Perceptions About Hands-On Art Making by Non-Art Major Online Students
Read the: Gayle Nelson Study
M.A. Illustration Syracuse University, NY Graduated 2004
Thesis: Printmaking - Contemporary American Printmakers and their Contributions to the Field of Illustration.
B.S. Art Troy State University AL Graduated 2001
Relevant Skillset & Experience
Instructional Design, Training, and Online Education
15+ years' experience directing teams of designers and trainers at the director level
Established new procedures and training programs for improved efficiency and quality of product
Served as academic and course mentor for new instructors
Designed professional development training series for online instructors.
Directed and developed multiple courses:

New Student Orientation course
Graduate Orientation course
Am I Prepared for Online Learning? self-assessment
How Blackboard Works/How Students Learn at eTROY
Teaching Online Proficiency
Art Instruction
15+ years in designing and teaching Visual Art and Integrating Art courses
Experienced in teaching in class, online, and hybrid environments
Graphics and Creative Design
Longtime artist –Nelson Illustration: nelsonillustration.com
Experience as Art Director and Art & Graphics Operations Manager
Employment History
Troy University, Troy, AL 2002 - Present
Director of Operations & Instructional Design– 2002-2011
Built the online learning component at Troy, assisting 500+ online instructors every term with 600+ virtual courses;
Team directed annual faculty Colloquium, coordinating 3-day workshop and sessions, transforming face to face Colloquium to a virtual webinar;
Enrollments doubled and sponsorship dollars replaced the $30k on-ground costs to $0 in expenses for the University and provided high quality industry speakers;
Launched a professional development series for 1,000+ faculty and adjunct instructors.
Lead Designer – 2011-2014
Team committee course redesign and development of class templates based on departments' learning objectives;
Individual one-on-one course design and preparation with instructors in conjunction with college directives.
Adjunct Instructor, Visual Arts - 2004-current
Currently teach online, 5 terms per year, 25-40 students per term;
Term course builds using Blackboard and Canvas platforms.
Awards, Certifications, & Publications
Walden Scholars of Change – 2013, Haiti work with doctoral classmate to assist in launching elementary school.
Quality Matters Peer Reviewer Certification – 2012, Certification for quality assurance.
Prosci Change Management Certification – 2007, Certification for organizational change management.
Distance Learning China-US Forum on DL – 2007, Development of successful study-abroad partnerships.
The Society of Illustrators – 2004, Promotion of art and appreciation of illustration.
Books and Exhibits:
My Name is EzelL, Writer/Illustrator – 2012, Narrative and illustrations for book on the Haiti earthquake.
AL the Nutty Astronaut, Co-Illustrator – 2011, Co-illustrated comic character "AL"
The Lisco Swamper, Illustrator – 2004, Six engraved illustrations for folk book.
Syracuse University Magazine, Illustrator – 2004, Byodo-in Temple, Oahu, engraving for magazine.
AOP (Association of Photographers) Gallery Show, London, Sublime: Representations of Awe in Contemporary Imagery - January, 2006, Photo of Pascagoula home: Do Not Allow Katrina to Steal Your Joy.
Lowe Gallery of Art, Syracuse, NY, Engraved Impressions in Print, July 30-August 14, 2004, Student body of illustrative art work for MA thesis.
WMA Gallery Exhibit, Dothan, AL, Journeys, June 9-July 22, 2001, Gallery show of my artwork in multiple mediums.